City of St. Albert Information
---
About St. Albert, Alberta, Canada
Postal Code: T8N
Mayor: Nolan Crouse
Governing: St. Albert City Council
Phone Codes: (780) (587)
St. Albert is a city in Alberta, Canada, on the Sturgeon River northwest of the City of Edmonton and is know as "The Botanical Arts City". It was originally settled as a Métis community, and is now the second-largest city in the Edmonton Capital Region. St. Albert first received its town status in 1904 and was reached by the Canadian Northern Railway in 1906.
Originally separated from Edmonton by several miles of farmland, the 1980s expansion of Edmonton's city limits placed St. Albert immediately adjacent to the larger city on St. Albert's south and east sides.
---
Climate
In St. Albert, the climate is cold and temperate. St. Albert has a significant amount of rainfall during the year, this is true even for the driest month, February with 17 mm of rainfall. With an average of 92 mm, the most precipitation falls in July. The average annual rainfall is 466 mm. The difference in precipitation between the driest month and the wettest month is 75 mm.
The average temperature in St. Albert is 2.8 °C. The warmest month of the year is July, with an average temperature of 16.9 °C. January has the lowest average temperature of the year. It is -13.9 °C. During the year, the average temperatures vary by 30.8 °C
---
Population History
---
St. Albert Symbols
The City of St. Albert Coat of Arms/Crest
The City of St. Albert crest was developed in 1967 as a centennial project. It is used exclusively for legislative purposes by the City. It appears on the letterhead of the Office of the Mayor, invitations
extended by Council, official plaques, and is included in the design of St. Albert's flag.
On the crest is a stylized cross, signifying Father Lacombe's mission. The sky and hills portray the scenic surroundings of St. Albert and the wavy band the Sturgeon River. Spruce trees show the lumber with which the settlement was built and the wheat symbolizes the agriculture basis of the economy of the early days.
"In Omnibus Respice Finem", meaning "in everything you do look to the end," is the motto of St. Albert.
Questions regarding the use of the crest, the flag and the motto should be directed to the City Manager's Office.

The City of St. Albert Flag
St. Albert's flag was chosen by the residents in a ballot and was officially approved by Council in 1980. The description provided by
the designer is as follows: "In abstract design, the blue and white, the colours of Quebec, recall the Métis and Francophones who were the first settlers in St. Albert. The traditional colours of Britain, red, white and blue, symbolize the many Anglophones who contributed to the expansion of the community'.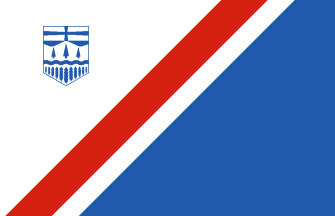 The City of St. Albert Logo (1977 to 2010)
The logo, as shown at left, was adopted by the City in 1977 and was used exclusively until 2010 when a new logo (see Figure 4, below) was adopted. The use and display of the old logo will be gradually phased out over time as new products featuring the new logo replace those with the old logo. As such, this logo will still be in use after the introduction of the new logo in 2010.
The City of St. Albert Logo
The correct use of the City of St. Albert Logo, shown at left, is defined in The City of St. Albert Visual Identity Guide, including the use of black and white, full colour, and alternate colour versions of the Logo. Also defined are proper placement, spacing and sizing of the Logo. The logo may be used either with or without the "Cultivate Life" text line. Other text lines, such as the name of a City department may be inserting in its place. The permitted variations of text used in association with the graphic elements of the Logo are also explained in The City of St. Albert Visual Identity Guide.


The City of St. Albert Secondary Logo
The Leaf Icon
The City of St. Albert Secondary Logo, which has also been referred to as the "Leaf Icon", is shown at left. It is a graphic element that replicates elements of the City of St. Albert Logo, and it does not include any text elements. The correct use of this graphic element is defined in The City of St. Albert Visual Identity Guide, including the use of black and white, full colour, and alternate colour versions of the Secondary Logo and the proper placement, spacing and sizing.
---
Economy
St. Albert has an active and skilled labour force, with a low unemployment rate of 4.3%. In 2011, 67.5% of the 40,560 adults aged 25 years and over in St. Albert had completed some form of postsecondary education, compared with 59.6% at the national level.
Of the population aged 25 years and over in St. Albert, 31.7% had a university certificate or degree. An additional 24.3% had a college diploma and 11.6% had a trades certificate.
The share of the adult population that had completed a high school diploma as their highest level of educational attainment was 23.7%, and 8.8% had completed neither high school nor any postsecondary certificates, diplomas or degrees.
---
Education
Ensuring residents of all ages have the best education opportunities available is a priority for St. Albert. The city includes a range of school options to meet the needs of students
Elementary, Junior High and High School education is available through the Catholic and Francophone school boards, and St. Albert Public School District #5565, which offer outstanding programs that include education in the classroom and opportunities for learning at venues like museums, recreation facilities and art studios.
St. Albert students consistently rank above the provincial averages in Alberta's Provincial exams and can enjoy enriching education experiences through French Immersion, International Baccalaureate, Logos and Cogito. Programs are also available for special needs and distance learning.
Post-secondary schooling is offered nearby; Athabasca University, the University of Alberta, NAIT and MacEwan University are all accessible by direct bus routes and roadways.
---
Attractions
---
Arts & Culture
---
Sports
St. Albert was twice formerly home to an Alberta Junior Hockey League (AJHL) franchise. Between 1977 and 2004, it was home to the St. Albert Saints, which produced players such as Mark Messier and Mike Comrie. The team moved to Spruce Grove in 2004, becoming the Spruce Grove Saints. In 2007, the AJHL returned to St. Albert when the Fort Saskatchewan Traders relocated to the city, becoming the St. Albert Steel. Playing out of Servus Credit Union Place, the team lasted five seasons before moving to Whitecourt in 2012, becoming the Whitecourt Wolverines.
NHL ice hockey player Jarome Iginla is from St. Albert. He played his entire minor hockey career in the St. Albert Minor Hockey Association, which included stints with the Bantam AAA Sabres and the Midget AAA Raiders. It was during the 1992-93 season with the Raiders that Iginla, then an under-age midget player, scored 87 points to lead the Alberta Midget AAA Hockey league in scoring. Following this season Iginla joined the Kamloops Blazers as a 16-year-old.
Other hockey players that have played in St. Albert are Mark Messier, Rob Brown, Geoff Sanderson, Fernando Pisani, Paul Comrie, Mike Comrie, Troy Murray, Stu Barnes, Brian Benning, Steven Goertzen, René Bourque, Jamie Lundmark, Erik Christensen, Steve Reinprecht, Todd Ewen, Dion Phaneuf, Ryan Kinasewich, and Drew Stafford.
Football
St. Albert recently added an artificial turf field in Riel Park as the home of every minor team in the city. Former University of Calgary and current Montreal Alouettes Slot Back, Chris Dobko was born and raised in St. Albert
---
Recreation
---
Shopping
No day trip is complete without a bit of shopping but for some, shopping is what it's all about. If this describes you, St. Albert will not disappoint.
There are one-of-a-kind shops throughout the city where you can find unique treasures for you closet, home or garden.
The Perron District in downtown St. Albert offers a great selection of boutiques and cafes. St. Albert Centre, is the city's largest mall and has over 60 stores and services. Other local gems will complete your unique shopping experience. Search the business directory or ask a resident about their favourites.
Every Saturday from mid-June to Thanksgiving, St. Albert hosts the largest outdoor farmers' market in western Canada. There is a huge selection of baking, crafts, vegetables, fruit and more along with street performers and entertainment for the whole family.
Downtown/Perron District
The Perron District is in the heart of downtown St. Albert. Here you will find a great selection of boutiques and cafes. You can find designer clothing, unique giftware and hand-made artisan collections.
Every Saturday from mid-June to mid-October, St. Albert hosts the largest outdoor farmers' market in western Canada. There is a huge selection of baking, crafts, vegetables, fruit and more along with street performers and entertainment for the whole family.
Enjoy Centre
The Enjoy Centre is more than a store; it's a destination. You'll discover boutiques, food and wine, a spa, restaurant, garden centre - even an event space. Soaring glass ceilings provide a breathtaking view of the prairie sky making it the perfect venue for an inspired day of shopping. Fashion, entertainment, food, art, plants - everything you need in one location.
Farmers' Market
Fresh fruit, fine woodworking, ripe-off-the-vine vegetables, home baking, beautiful flowers and hand sewn works of art. These are some of the great buys found at western Canada's largest outdoor Farmers' Market. Every Saturday from 10am - 3pm starting June 13, 2015 to October 10, 2015, downtown St. Albert is transformed into a unique outdoor social and shopping extravaganza where buskers and musicians create a carnival atmosphere.
St. Albert Trail
Along St. Albert Trail is the bulk of shopping opportunities. St. Albert Centre, the city's largest mall has over 60 stores and services. On either side of the Trail is a great mix of independent, family owned shops and the staple big box stores. Want to try something new? Head west along McKenney Drive to Mission Ridge Plaza to purchase gifts or home accessories,fashion accessories or stock up on your quilting needs. East of St. Albert Trail on Bellerose Drive is the newest shopping destination Shops at Boudreau.
W.A.R.E.S. Gift Shop
Fostering awareness of visual arts and craft within St. Albert, St. Albert Place Visual Arts Council (SAPVAC) operates this unique gift shop featuring Works of Art Representational of Every Studio.
Showcasing the members of:
Floral Art Society of St. Albert
St. Albert Painter's Guild
St. Albert Paper Arts Guild
St. Albert Potters Guild
St. Albert Quilters' Guild
---
Transportation
St. Albert Transit strives to provide optimal, affordable and accessible service to its customers for travel within St. Albert and to key commuter destinations in Edmonton.
The History of St. Albert Transit
Historically, there was once an inter-urban railway that operated between St. Albert and Calder in Edmonton. The service began in 1913 but on April 1, 1914 the storage barn was destroyed by fire and the service never resumed.
1950s / 60s
Several bus companies operated services from St. Albert, including Northland Arrow, Sunburst Bus Lines, Canadian Coachways and Western Bus Lines.
1970s
The Town of St. Albert assumed the responsibility for transit provision in 1974. Edmonton Transit System was contracted to operate 3 buses to Edmonton during peak hours (fare $0.50), carrying around 300 people daily. In 1976 the Town of St. Albert purchased 10 regular transit buses and commenced service to the U of A. Briggs Bus Lines provided local service using 8 yellow school buses, under contract.
1980s
On July 2, 1986 St. Albert Transit services began, following the construction of a transit garage in the Campbell Industrial Park. The City of St. Albert now owned and could administer, maintain and shelter its fleet. Grey Goose Bus Lines were contracted to provide drivers for the service. At this time the bus fleet comprised 23 GMC 'New Look' transit buses, painted in the red, blue and white livery.
1990s
St. Albert Transit was the first system in Western Canada to own and operate 18 metre long articulated (bendy) buses. St. Albert Transit was also the first system in Canada to operate Low Floor wheelchair-accessible buses on regular scheduled routes. Yellow school bus service on local routes ended in 1995. St. Albert Transit was contracted by the Town of Morinville to operate the Interlink service.
Today
StAT currently operates 63 buses. The fleet travels a total of 2.2 million kilometres and carries over 1.25 million riders annually. StAT employes 21 permanent staff and Diversified Transportation Ltd provides us with 76 drivers and 7 support staff.
---
Local Media
---
Health Care
Hospitals
The Sturgeon Community Hospital provides a wide variety of health services to the community of St. Albert and surrounding area. As a community hospital, the Sturgeon's focus is on providing the best care in a comfortable, modern and friendly setting. Care provided includes emergency, women's health, cardiac care, surgery, medicine, pediatrics, and rehabilitation.
Sturgeon Community Hospital
201 Boudreau Road
St. Albert, Alberta T8N 6C4
Phone: 780-418-8200
website: www.capitalhealth.ca
Medical Centres
Grandin Medical Clinic
1 St. Anne Street
St. Albert, AB T8N 2E8
Phone: 780-459-5581
Tudor Glen Medicentre
2520 Tudor Glen Market
St. Albert, AB T8N 3V3
Phone: 780-458-5776
Primary Care Network - St. Albert & Sturgeon County
The St. Albert & Sturgeon Primary Care Network is a group of family physicians and other health care professionals (e.g. dietician, lactation consultant, mental health coordinators, nurses, pharmacist, etc.) working together to provide enhanced primary patient care.
Visit the St. Albert & Sturgeon Primary Care Network website for more information.
---
Awards
Community Recognition
#1 Best Small City to Live in Canada
– Moneysense, 2016
#1 Best City to Live in Canada
– Moneysense, 2014
#1 Healthiest Community in Canada
– Reader's Digest, 2013
#1 Place to Raise a Family
– Today's Parent, 2011
---
Our History
St. Albert celebrates a rich history that dates back over 150 years and has often been called Alberta's Finest City. Founded in 1861 by Father Albert Lacombe, St. Albert is the oldest, non-fortified community in Alberta and was the largest agricultural settlement west of Winnipeg.
Father Lacombe, one of the earliest missionaries in the west, proclaimed Mission Hill home to the St. Albert mission settlement. He built a log chapel for ministering to the Cree and Métis. Father Lacombe Chapel, the oldest building in Alberta, is now a Provincial Heritage Site and has been restored to its original appearance. It is located on the north hill of the river and is open to tours from June to September.
St. Albert was incorporated as a village in 1904 followed by town status in 1962. St. Albert officially became a city in 1977.
Today, St. Albert is a bustling city with over 64,645 residents. With more than 85 kilometres of trails, 1,100 acres of green space, the Arden Theatre, the visual arts studios, the Musée Héritage Museum and numerous special events - it's easy to see why St. Albert is renowned for its rich heritage, artistic community, and natural environment.
---
More